Rain Gardens for home owners
Posted: Monday, March 27, 2017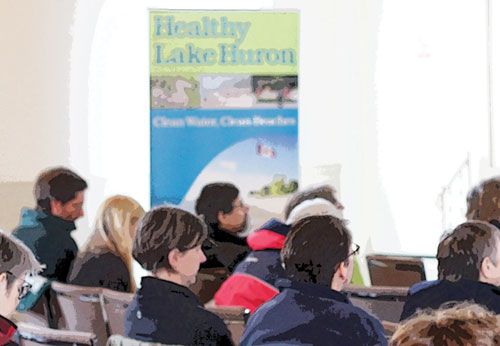 Fifty residents attend March 25, 2017 workshop to learn about rain garden design, water quality benefits, from landscape professionals
About 50 people came to the Bayfield Town Hall on a rainy Saturday morning in March to learn about rain gardens and how to construct them. The workshop was held on March 25, 2017. "We had a great turnout for this workshop," said Hope Brock, Healthy Watershed Technician with Ausable Bayfield Conservation. "I'm thrilled to see this level of interest in rain gardens."
Professional rainwater harvester Jeff Thompson introduced the concept of rain gardens and the components needed to build one. Homeowners also heard from local landscape designer, Anna Dalton-Needles, about colour, texture, and other elements of design to consider when choosing native plants for the rain garden.
It was also announced at the workshop that there will be grants available soon to assist homeowners with installing rain gardens on their property. Funding program details are still being finalized but homeowners in Bayfield, and potentially throughout Huron County, may be eligible to apply for this funding. Part of the confirmed funding will come from the Municipality of Bluewater through its Blue Flag initiative. The Blue Flag is an international designation awarded to beaches and marinas that meet certain criteria like water quality. The Bayfield Main Beach has flown the Blue Flag since 2010.
Homeowners interested in creating a rain garden on their property should watch for further announcements, in mid-April to late-April of 2017, regarding the grant program.
The March 25 workshop for homeowners was the second rain garden workshop hosted by Ausable Bayfield Conservation in March of this year. A previous workshop, held on March 2, was designed for landscape contractors and designers.
Rain gardens are shallow, sunken gardens. They protect local water quality when they collect, absorb and filter water running off of land during storms. When it rains or when snow melts, water runs off roofs, patios, and driveways. Rain gardens can prevent this water, along with contaminants the runoff picks up, from draining directly into a local storm sewer or nearby watercourses. "Rain gardens provide benefits to water quality," said Brock. "Rain gardens reduce flooding and erosion, and they can also add beauty to your yard and create habitat."
The Main Bayfield Watershed is a sentinel watershed and priority area of the Healthy Lake Huron: Clean Water, Clean Beaches Partnership. That initiative, for Lake Huron's southeast shore, is a partnership, to protect and improve water quality and beaches, of all levels of government as well as landowners, community groups, local conservation agencies, and public health.
CONTACT:
Hope Brock
Healthy Watershed Technician
Ausable Bayfield Conservation
519-235-2610 or 1-888-286-2610
e-mail hbrock@abca.on.ca