Protecting water in Garvey-Glenn Watershed
Posted: Friday, October 19, 2018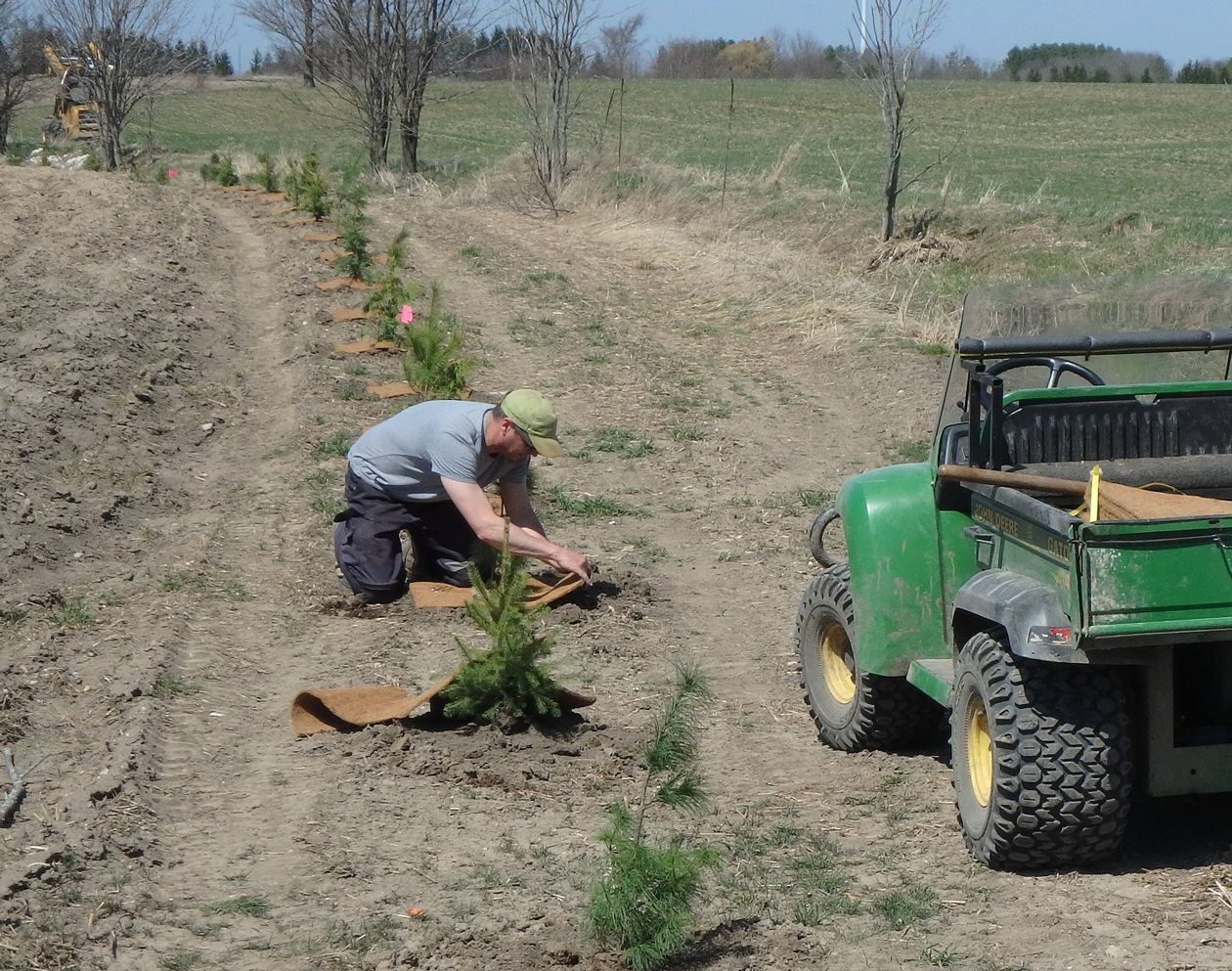 2018 Garvey-Glenn Watershed Project Update
Continued work in Garvey-Glenn Watershed helps to protect water
By Sarah Fleischhauer, Stewardship Project Lead at Maitland Valley Conservation Authority (MVCA)
---
The Garvey-Glenn is a watershed that is 16.85 square kilometres in area and located in the Township of Ashfield-Colborne-Wawanosh. This watershed is primarily made up of agricultural land, with a mix of homesteads, cottages, and a locally significant wetland.
The Garvey-Glenn Watershed Project began in 2011 and aims to research and demonstrate how to best create a watershed that is resilient to the impacts of climate change. This is being done through researching the social and economic factors in the uptake of agricultural best management practices (BMPs), as well as demonstrating the effectiveness of various BMPs.
One unique attribute of the Garvey-Glenn Watershed Project is the use of the ACTT (Avoid, Control, Trap / Treat) approach in the Garvey Creek and Glenn Drain area. This approach is to avoid the issue, control any water quality issues at the sources, and trap and treat it before it enters the watercourse. All projects completed in the Garvey-Glenn Watershed follow the ACTT approach in some way.
This year (2018) has been a successful year for the Garvey-Glenn project. In 2018, Maitland Valley Conservation Authority (MVCA) started off the season by partnering with Lawrence Hogan (a Garvey-Glenn landowner) and the Ausable Bayfield Conservation Authority (ABCA) to host a Bio-strip Tillage Workshop in April of 2018. This workshop demonstrated the innovative practice of bio-strip tillage. Bio-strip tillage is a practice where alternating rows of cover crops are planted to mimic strip tillage, also known as 'biological' strip tillage.
There were many questions from the 40 participants, ranging from the equipment used to the different species' role within the cover crop mix. A bit of rain didn't stop attendees from walking the field and seeing how the cover crops had decomposed in time for spring planting.
The MVCA also worked with four landowners in the Garvey-Glenn Watershed this spring to plant two windbreaks and two riparian buffer plantings. More than 1.2 kilometres (km) of windbreaks were installed thanks to landowners in the Garvey-Glenn. Windbreaks offer year-round benefits to help reduce soil erosion, increase crop yields, and reduce heating costs (when planted around a structure). As well, this year, 1.2 km of riparian buffer was planted, and included a variety of coniferous and deciduous species. Riparian buffers are planted to create a buffer zone between agricultural lands and watercourses. They help to stabilize banks, provide a filter strip to trap sediment moving across the landscape, provide shade to watercourses, and create habitat.
A new, innovative municipal drain was installed in the Garvey-Glenn. The Glenn Municipal Drain – E Drain Extension was installed this past summer. The MVCA has been working with landowners, the municipality, and staff from R. J. Burnside & Associates Limited to add green infrastructure to a new municipal drain. These structures included nine water and sediment control basins (WASCoBs) and one grassed waterway. These erosion control structures are an important step in managing water as it moved across a field. These structures will help to take water underground and/or protect the soil surface from concentrated flows. Adding these structures to a municipal drain ensures that these structures will be protected and maintained. This is a great example of a community working together to help reduce soil erosion.
Along with all the great projects that are being completed, the MVCA is working hard to monitor the watershed's water quality. This is being done through event-based sampling that allows us to look at precipitation, streamflow, sediment, nutrients, and bacteria. Maitland Conservation has also been monitoring the impacts of BMPs at the field scale by developing overland flow and in-tile monitoring stations at the edge of a field. At this location, water samples are taken during seasonal base flow conditions and during large storm events.
We are looking forward to what 2019 has in store for continued work in the Garvey-Glenn Watershed Project, helping to protect and improve water in creeks, rivers, groundwater, and Lake Huron!
The Garvey-Glenn Watershed is one of five priority areas identified along Lake Huron's southeast shore. Long-term monitoring of weather and water quality and project implementation and evaluation in these priority areas can help to protect and improve water quality locally and guide work in other watersheds of Lake Huron.
​Photos:
In the first photo this water and sediment control basin (WASCoB) is shown being installed as part of the Glenn Municipal Drain – E Drain extension.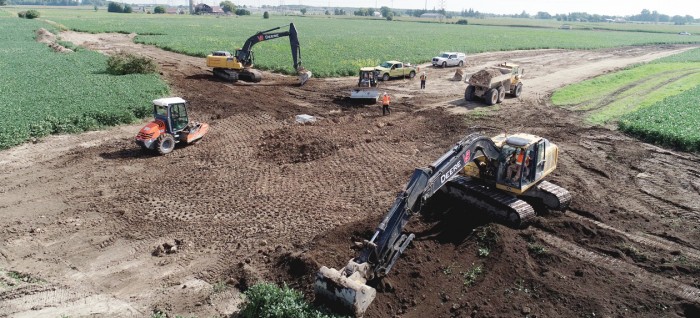 In the second photo, there are a WASCoB and grassed waterway that were installed in 2017. This shows what a completed WASCoB looks like in comparison to the earlier photo.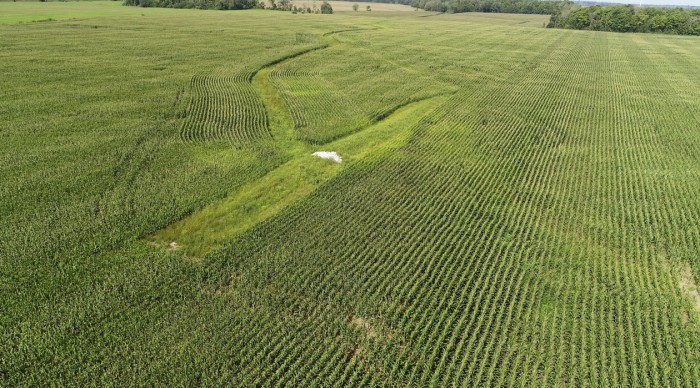 The third photo shows a spring buffer planting along a municipal drain.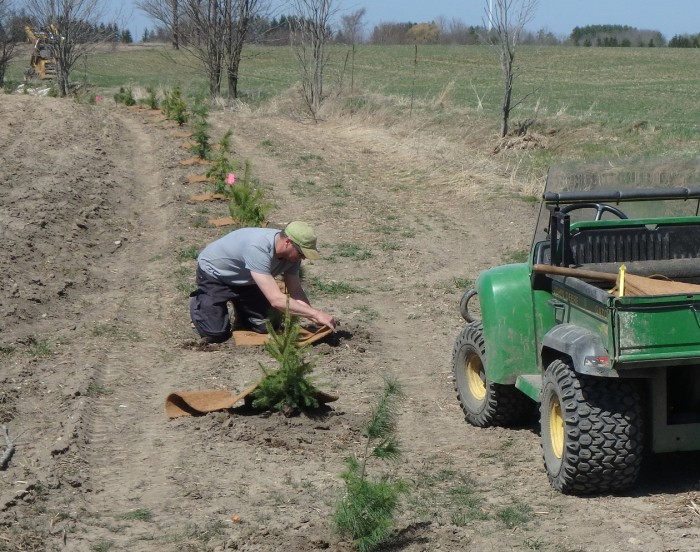 The fourth photo shows a comparison of what bio-strip tillage looks like in the autumnn compared to early winter.