Your actions help to protect your lake
Posted: Tuesday, June 16, 2020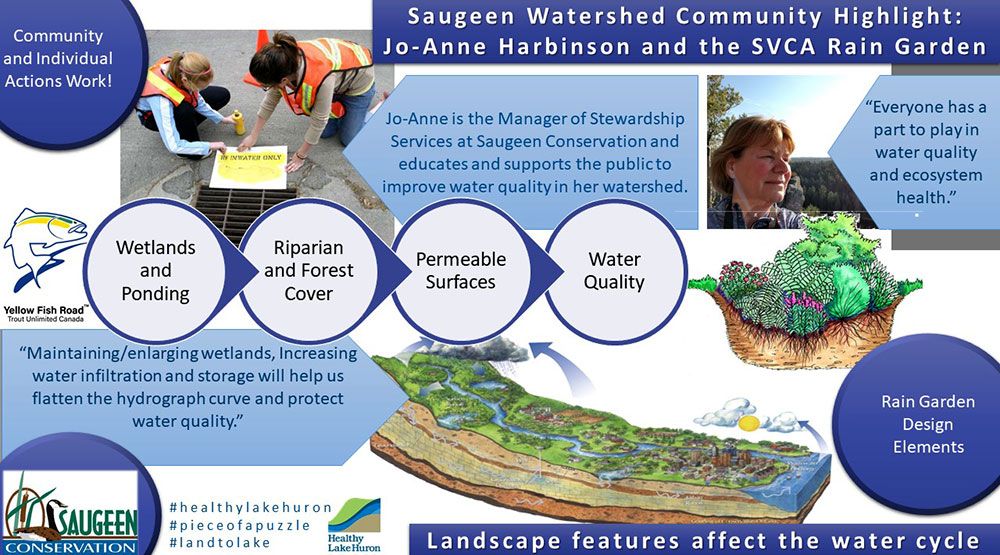 Community and individual actions work. That is a message, for the people along Lake Huron's southeast shore, from Saugeen Conservation.
Jo-Anne Harbinson, of the Saugeen Valley Conservation Authority (SVCA), is Manager of Stewardship Services. She educates and supports the public in their work to improve water quality in her watershed.
"Everyone has a part to play in water quality and ecosystem health," she said.
When you add wetlands, forest cover and riparian cover, and permeable surfaces, you can help to protect and improve water quality.
"Maintaining and enlarging wetlands, increasing water infiltration and storage will help us flatten the hydrograph curve and protect water quality," according to Saugeen Conservation.
Saugeen Valley watershed is a shoreline watershed and part of the Lake Huron-Georgian Bay watershed.
To learn more visit the Trout Unlimited Canada's Yellow Fish Road™ web page:
Saugeen Conservation has created some new videos to show what is being done, and can be done, to keep Lake Huron healthy.
Watch the video now:
Watch the video now:
Watch the video now:
Watch the video now:
Watch the video now:
Watch the video now:
Watch the video now:
Partnership promotes Healthy Lake Huron from land to lake
We are all pieces of the puzzle, according to Lake Huron partnership
Lake Huron partners are promoting a healthy Lake Huron from land to the lake.
The Healthy Lake Huron partnership says we are all a 'piece of the puzzle' when it comes to keeping this Great Lake great.
Local partners are creating videos and social media posts to engage people in best management practices for towns, villages, and cities and for agriculture and industry.
To view or read some of this information on protecting Lake Huron search these hashtags on Facebook or Twitter:
#healthylakehuron #landtolake #pieceofthepuzzle
You may also visit the Healthy Lake Huron website at healthylakehuron.ca
The information campaign began in May of 2020 and runs for several months. The themes are Soil, Water, Food, Beach, Nature, and Community.
Everyone's actions fit into one or more of these categories, according to the Partnership.
"Together, each of our puzzle pieces create the complete and complex puzzle of a Healthy Lake Huron," according to the healthylakehuron.ca website.
"We cannot see the whole picture without fitting the pieces together first. How do you fit in, and what can you do to help improve the health of this beautiful watershed?"
There have been many positive actions over the past decade. They range from soil health and cover crop initiatives to reduction of water quality impacts from multiple sources, to water quality monitoring.
"However, we realize we still have work to do to address ongoing water quality and soil health challenges," according to Healthy Lake Huron.
Partners in the Healthy Lake Huron initiative, along Lake Huron's southeast shore, include local public health, local government, Departments and Ministries, communities and landowners, and local conservation organizations.
Find out more here: