Garvey-Glenn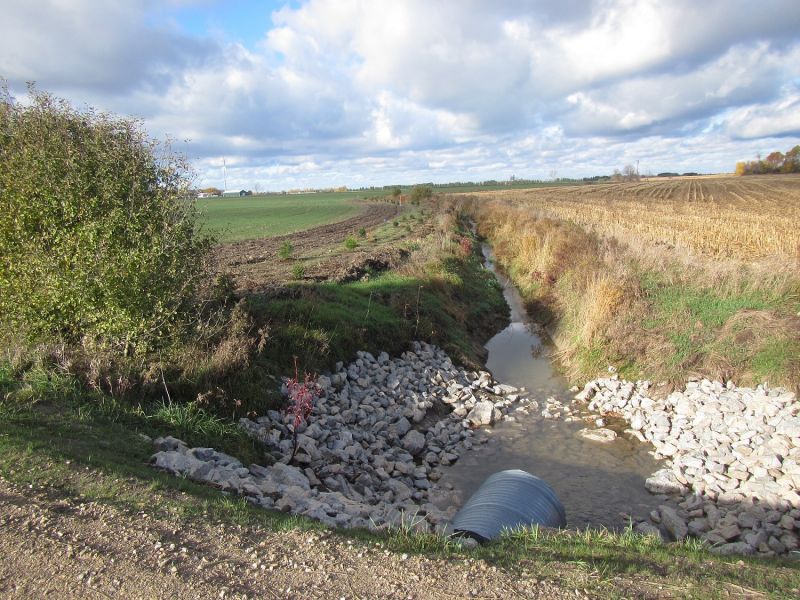 About
The Garvey-Glenn Watershed is a 16.85 km2 watershed located along the shores of Lake Huron in the Township of Ashfield-Colborne-Wawanosh. The watershed is primarily made up of agricultural land, with a mix of homesteads, cottages and a locally significant wetland. Maitland Conservation is working with 40 landowners to implement a variety of best management practices (BMPs) aimed at increasing soil health and improving water quality throughout the watershed.
The purpose of the Garvey-Glenn Watershed Project is to research and demonstrate how to best create a watershed that is resilient to the impacts of climate change. This is being done through showcasing successful outreach methods for working with landowners, as well as researching and demonstrating the effectiveness of a variety of BMPs.
Maitland Conservation is regularly monitoring water quality throughout the Garvey-Glenn watershed. Recently, an edge-of-field monitoring station was installed in the area, which consists of tile and overland water sampling. The edge-of-field station collects information on weather, soil moisture, water levels and water quality. This information is relayed back to the Maitland Conservation office using a radio transmitting device.
Water samples are collected during rain or snowmelt events, when tile and overland flows occur. When water levels reach a certain height a probe activates an automatic sampler to begin sampling. In the summer, the probe is lowered to ensure we capture data in low-flow conditions.
From the water samples collected staff are able to understand nutrient concentrations at a specific point in time. To grasp the amount of nutrients flowing through the system, the nutrient concentration must be linked to flow rates. This information enables staff to determine total nutrient loads that pass through each system per event. The data is used when trying to determine which BMP will have the greatest impact on improving water quality.
A Garvey-Glenn Watershed Project newsletter is produced four times a year. Topics discussed in the newsletter range from water quality research, landowner BMP adoption, to available funding opportunities. If are you interested in receiving the newsletter please send your information to the contact listed below.
Accomplishments
Since 2011, the following projects have been completed:
Grassed waterways: 2.2 km
Modified drain cleanouts: 1.3 km
Water and sediment control basins: 15
Length of channel buffered: 1.1 km
Length of windbreak added: 1.5 km
Block Plantings: 6 acres
Maitland Conservation has also been continually monitoring water quality. Maitland Conservation has recently added an edge-of-field monitoring station that will help us to better understand how various BMPs affect water quality coming off of a field.
External funding has allowed Maitland Conservation to fund a variety of projects that encourage nutrient management and conservation tillage practices.
Stewardship staff have done presentations on the Garvey-Glenn Watershed Project and the data being collected, at multiple Garvey-Glenn tours, workshops and conferences.
Additional Links
Pictures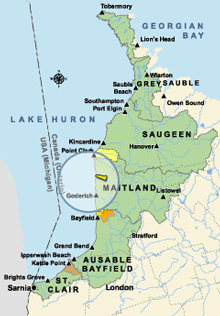 Documents
Maps:

Project Plan:

Soil and Water Environmental Plan
Garvey Glenn Shoreline Watershed Project – Soil and Water Environmental Enhancement Plan SWEEP)


Fact Sheets:

Newsletters: