We are all a #PieceofthePuzzle
Posted: Tuesday, June 16, 2020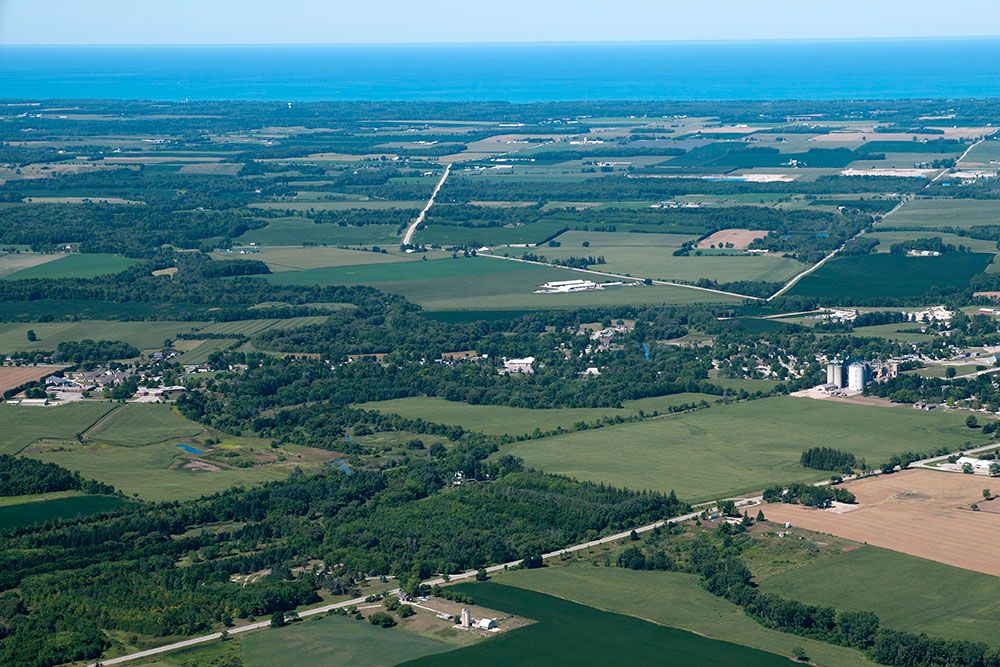 If there is one thing the Healthy Lake Huron group has learned over the past several years, it is that the challenges that face the lake are complex and solutions belong to the entire watershed community. Everybody wants a healthy lake, thriving and healthy industries (e.g., agriculture, manufacturing, tourism and recreation, heritage and culture), and a stable economy in rural counties. We have seen many positive actions over the last decade to address this complexity, from increased water quality monitoring, to an increased focus on building soil health and reducing impacts on water quality from multiple sources, and a rural focus on keeping ingredients local. However, we realize we still have work to do to address ongoing water quality and soil health challenges.
The information we will highlight over the next few months falls under six broad categories: Soil, Water, Food, Beach, Nature, and Community. Everyone's actions fit into one or more of these categories so, together, each of our puzzle pieces create the complete and complex puzzle of a Healthy Lake Huron. We cannot see the whole picture without fitting the pieces together first. How do you fit in, and what can you do to help improve the health of this beautiful watershed? Look below for some ideas and search #pieceofthepuzzle on Facebook and Twitter!
Soil
Do you live in a town, village, hamlet, or other urban area? Use compost in your garden. It will help reduce waste, and help build up your soil organic matter and water holding capacity.
Do you have a property in the country? Implement erosion control measures, such as grassed waterways and berms, to keep your valuable soil and nutrients in place.
Introduce land management practices that help build soil organic matter and water infiltration capacity. Consider using less tillage when possible, and use cover crops over the winter to help hold the soil in place.
Do you have areas of cropped land that are less productive? Consider retiring the land into trees, or perhaps a pollinator strip or wetland. There may be grants available to assist in implementing these projects. Check with your local conservation authority.
Water
Slow down the water. Hold back the water. Soak it in.
What happens to the water on your land during a rainstorm? Look for opportunities to prevent runoff and increase water infiltration. Management practices help prevent soil erosion. These practices include berms and grassed waterways. This helps to limit water running off of land during storms. Wetlands are also beneficial for filtering out nutrients and holding excess water.
What about storm water in urban settings? Use rain barrels to collect water for other uses, or plant a rain garden to help filter and soak up excess water.
What are your water needs? Look at your household or business and determine where you can introduce efficiencies and water conservation practices to reduce usage.
Citizen science! Researchers and water quality specialists are always looking for community members who are interested in helping to monitor water quality. Get in touch with your local conservation authority to find out more about volunteer opportunities.
Food
Do you know where your food comes from, or the path it takes to get from the farm to your table? Do some research, and make choices based on the best information you are able to find.
Find out more about your local agricultural community and their processes involved in food production.
The Lake Huron basin has many great restaurants, craft breweries, wineries, cheesemakers, and ice cream shops that focus on using local and sustainable ingredients. Plan a tour to try some!
Beach
Living on the lake can be challenging, due to the dynamic nature of the beach and bluffs along the shoreline. Find out more about the native plants and trees that can help to restore and protect shoreline bluffs and dunes. Contact your local conservation authority or the Lake Huron Centre for Costal Conservation for more information.
Wind and storms can bring a lot of garbage onshore, in addition to what tourists sometimes leave behind. Many local volunteers walk the beach every day to clean things up. Next time you have a beach trip, bring a few bags along and collect some garbage – it is great exercise and you will feel great afterwards!
Our lake coast is dynamic and erosion and coastal processes are part of that natural system. Attempts to disrupt natural coastal processes could result in affecting sensitive areas or neighbouring properties along the shoreline.
Nature
Healthy watersheds have 30 per cent natural cover. Look at your own property to find ways to increase natural areas. Can you make room on your property for more trees, a small wetland, or perhaps a pollinator strip or garden?
Protect what we have! If you have a wetland on your property, ensure that it remains functioning and intact for the valued ecosystem functions it provides.
Have you thought about the many tributaries that flow into the Lake Huron basin? Find out about what local conservation authorities and the local agricultural community are doing to protect the streams and creeks that connect us to Lake Huron.
Community
Have your community group hold nature walks to find out more about the local features in your watershed.
Find out more about the various community groups in the Lake Huron basin that work tirelessly to improve the watershed through volunteer opportunities. Consider joining them in their efforts!
Plant a community rain garden to help with storm runoff.

Some communities have semi-annual trash bashes, where the whole village or town heads outside and cleans up for two hours. Start a trash bash in your community!