If you swim in Lake Huron practise safe swimming
Posted: Monday, May 16, 2022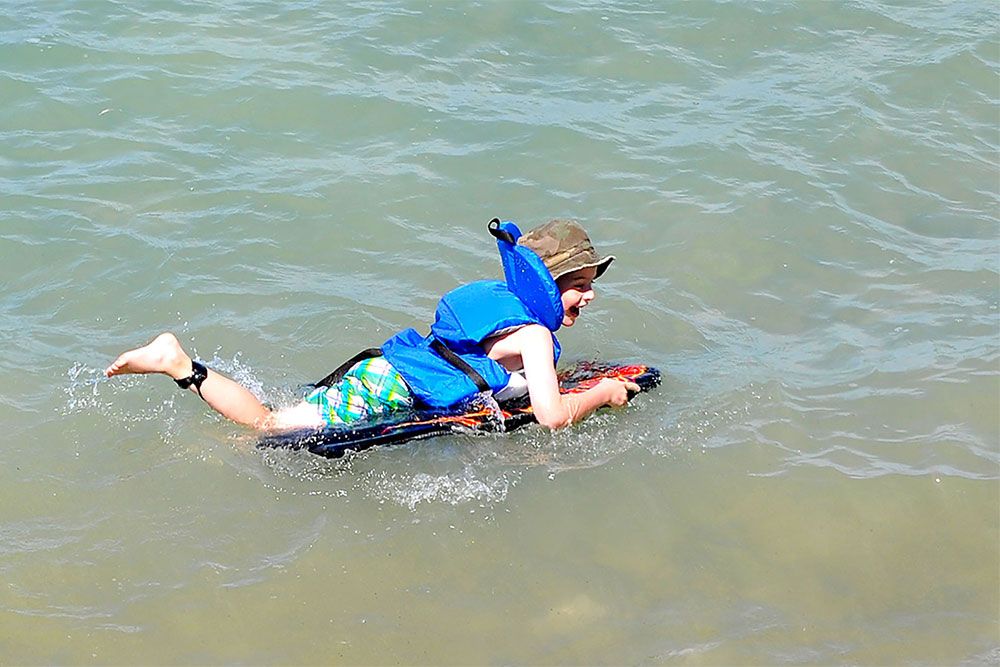 Visit local public health websites, social media channels in summer 2022 for info on safe swimming, recreational water quality
The Victoria Day long weekend is almost here and, as the weather warms up, many local residents and visitors to Lake Huron will consider swimming in the lake.
As you make decisions about where and when to swim, don't forget to visit local public heath websites and social media channels to learn about safe swimming practices and, where available, water quality information for Lake Huron beaches.
Recreational water use is popular along Lake Huron's southeast shore. These activities can benefit your health and well-being if done safely. Yet, there is the possibility of injury or illness from recreational use if the water is polluted or unsafe.
Organisms such as bacteria, viruses, and parasites can cause infection and human illness. These organisms can be present in natural bodies of water.
In some areas, along Lake Huron's southeast shore, beaches may be closed or posted at times. Whatever the signs say or don't say, it is important to know about when the lake is most likely to become most contaminated and best practices to help reduce risk to you and your family.
The quality of Lake Huron water can change dramatically day to day, hour to hour, or even minute to minute with either heavy rainfall, high wave action, or both. The water may have high levels of bacteria that could increase the risk of skin, eye, ear, nose and throat infections or gastrointestinal illness.
In some cases, local beaches may be closed or posted if local public health believes there is a potential risk to the public when the levels of E. coli (Escherichia coli) exceed (or are predicted to exceed) the federal guidelines and provincial standard (200 E. coli per 100 mL of beach water) for recreation. Other factors, such as environmental conditions, may also cause beaches to be posted.
In some cases, predictive beach models are used and reviewed to reduce the time required to use beach water sampling; to provide real-time or same-day water quality information; and to reduce the impact of extended beach postings.
Some local public health agencies conduct monitoring and testing on a number of public beaches but swimming and recreational conditions can change quickly. It's important to know about recent weather events, and the impact weather can have on recreational water quality, and to follow best practices. It is not possible for public health to monitor all beaches and they can't do it all the time or monitor for all pollutants.
When beaches are monitored they may be monitored for E. coli levels only. There may be other harmful bacteria, viruses, parasites or pathogens in the water. Also, local public health does not test other bodies of water such as creeks and streams, rivers, ravines, gullies, and dams. Residents should be aware these areas could be unsafe for swimming.
The number of E. coli can be influenced by rainfall, turbidity (lack of water clarity), air and water temperature, as well as the features of the coastline.
Sources of E. coli may include, among other things, animals and waterfowl, malfunctioning sewage disposal systems, and stormwater runoff carrying chemicals and excess nutrients into creeks, rivers, and the lake.
Positive actions are required to manage water running off of land ('slow it down, spread it out, soak it in ...'), if we want a Lake Huron that is fishable, drinkable (after the raw water source is treated), and swimmable.
Read and heed any beach water quality signs but don't rely on signs and postings alone. High bacteria levels often occur due to weather-related events. Beachgoers should make informed decisions about beach water quality in real time before they decide to go swimming or not. When you have all the facts, you may be the best judge of whether the water is safe to swim.
For example, here are some 'rules of thumb' from one local public health organization:
If the beach is posted with a warning sign, don't swim.
If there has been a heavy rainfall in the previous 24 to 48 hours, don't swim. (Bacteria levels may be higher).
If you can't see your feet at adult-waist depth, cloudy water can mean that bacterial levels may be higher and, in that case, don't swim.
If there is a large number of water fowl, dead fish, algae, scum, or dangerous debris … don't swim.
Also – do not ever swallow lake water no matter how clean it looks.
People have already started swimming in Lake Huron. So, follow your local public health channels (websites and social media) for information on beaches and water quality – and other local public health issues.
Here are some ways to find out more:
Online Info Sources along Lake Huron's Southeast Shore:
Local public health is an important partner in the Healthy Lake Huron – Clean Water, Clean Beaches initiative.
Here are some of the local public health websites with information on water quality at local beaches and/or safe swimming practices:
Social Media Channels along Lake Huron's Southeast Shore:
On Twitter:
To follow Huron Perth; Lambton; or Grey-Bruce local public health Twitter feeds you may visit here:
On Facebook:
You may also 'like' and 'follow' the Huron Perth Public Health; Lambton Public Health; or Grey Bruce Public Health Facebook pages here:
Other Information Sources:
For more beach safety tips go to The Canadian Red Cross: