100 per cent funding for stream buffers
Posted: Wednesday, September 21, 2022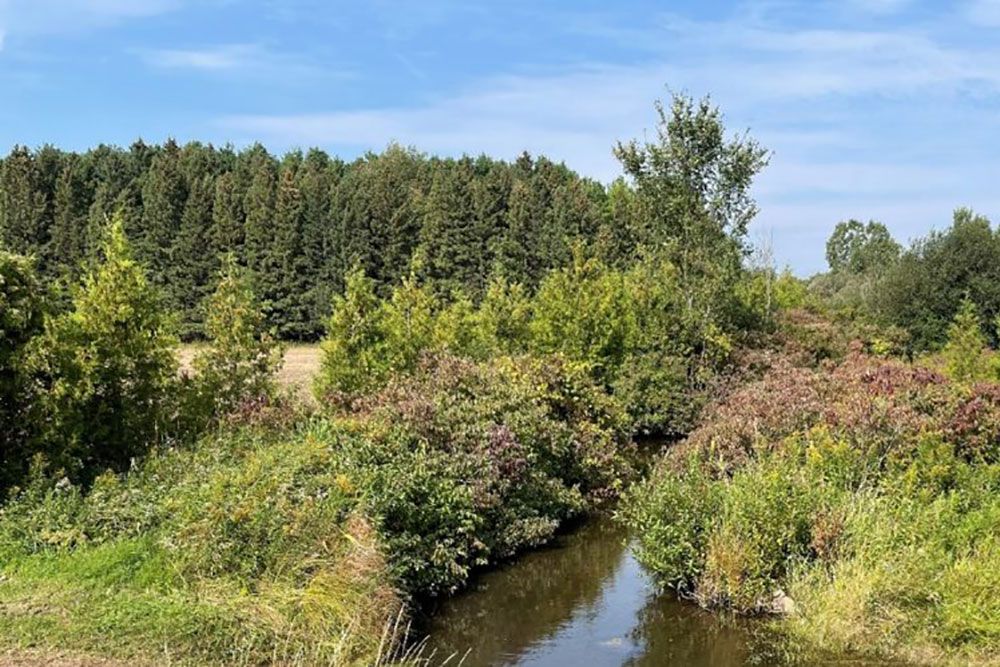 Maitland Conservation offering 100 per cent funding for stream buffers
If you are in the Maitland, Nine Mile, or Eighteen Mile River watersheds, and you've been thinking about planting along your stream, municipal drain, or flood plain, now is the time to act, according to Maitland Conservation.
Maitland Conservation can help landowners access 100 per cent funding for buffering watercourses in the Maitland, Nine Mile and Eighteen Mile River watersheds.
Recent funding from Environment and Climate Change Canada has been allocated to participating conservation authorities across Ontario to help with the federal government's goal of carbon sequestration.
Maitland Conservation is focusing these planting projects in areas that "need it most in our watershed," along vulnerable watercourses.
Planting along watercourses and flood plains creates resistance to flowing water which slows storm runoff and reduces the flooding risk downstream, according to the conservation authority. Vegetation in these areas also helps to stabilize banks, filter nutrients, and create or enhance habitat for wildlife.
Many buffers additionally act as windbreaks. This reduces soil loss from wind erosion. Buffers play an important role in keeping nutrients and soil on the land and out of watercourses. This ultimately benefits water quality in the Great Lakes, according to this conservation authority along Lake Huron's southeast shore.
Since Huron County is predominantly rural, Maitland Conservation has been finding creative ways to buffer areas along municipal drains. In order to make sure there isn't interference with drain maintenance, Maitland Conservation staff work closely with local Drainage Superintendents in priority areas to ensure drain function and future maintenance access are not impacted. Planting densely on only one side of the drain and then incorporating shrubs, wildflowers and widely spaced trees on the other side are ways to make sure access can be maintained.
Greg Urquhart, Forestry Technician with Maitland Valley Conservation Authority (MVCA), said word of mouth among landowners is helping to expand projects along some longer stretches of open drains.
"A 1.6-kilometre stretch of drain over four properties will be planted this fall," he said.
In addition to open municipal drains, Maitland Conservation is also restoring marginal flood plain land that participating landowners are willing to retire. The conservation authority works closely with the landowners and various stakeholders to ensure successful projects.
"Each site is different, and every landowner has different goals on for their property," said Shannon Millar, Restoration Technician. "We work with all parties to come up with the best plan for each site."
If you are interested in planting a stream buffer on your property or planning another stewardship project, you are invited to reach out to Maitland Conservation staff.
One consistent source of funding is the Huron Clean Water Project (HCWP) which is funded by the County of Huron and administered by staff at Maitland Conservation and Ausable Bayfield Conservation.
The HCWP encompasses funding for a variety of projects ranging from livestock exclusion fencing to community projects and tree planting.
Different funding opportunities pop up regularly, so call their staff to see if your project is eligible.
To learn more, contact Shannon Millar, Restoration Technician, Maitland Conservation, by email at smillar@mvca.on.ca or by phone at 519-335-3557, extension 233.
#HealthyLakeHuron #LandtoLake You are a #PieceofthePuzzle