Maitland Conservation creates Coastal Resiliency Initiative
Posted: Friday, June 16, 2023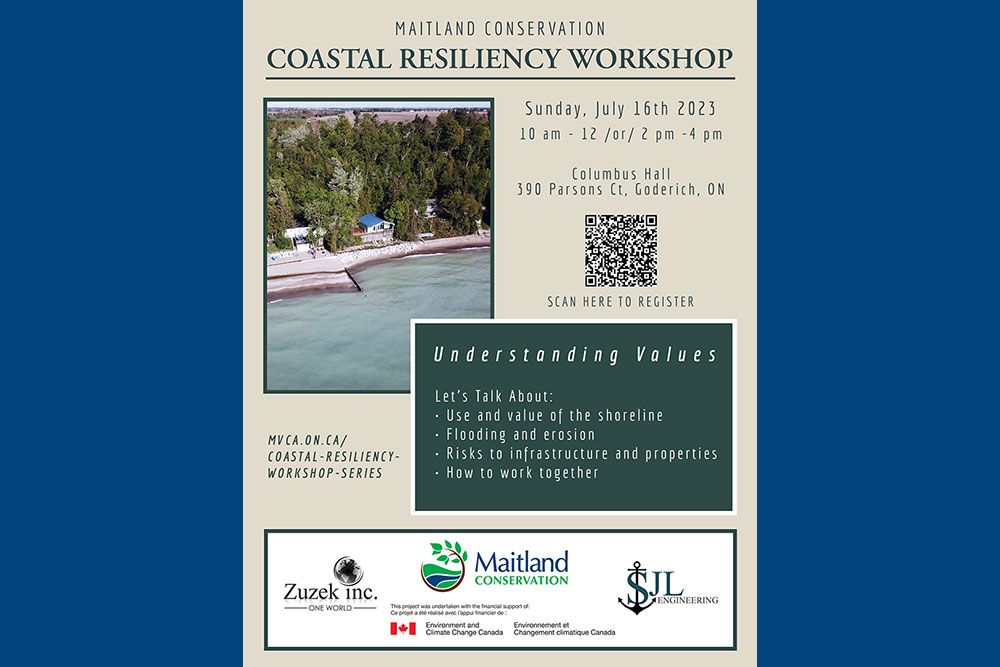 Maitland Conservation hosts Coastal Resiliency Community Workshops
This summer (2023), Maitland Valley Conservation Authority (MVCA) is hosting two public workshops to discuss the challenges facing the shoreline and to understand the values of shoreline stakeholders.
Together, according to MVCA, a framework is being built to improve interactions with natural shoreline processes and strive towards a safer more resilient coastal environment.
MVCA will host discussions and share information on dynamic natural features (e.g., beaches and dunes) and shoreline natural hazards (e.g., erosion).
They have identified potential stakeholder groups and organizations that have an interest in coastal resilience.
MVCA is also looking for input from the general shoreline community. Whether you are a recreational beach user, a shoreline landowner, or a small business owner near Lake Huron, organizers say your opinions are integral to the success of this project.
Over the next several years, MVCA will be collaborating with these shoreline community members to build a mutual understanding of coastal resiliency.
MVCA and their shoreline municipalities will soon have up-to-date shoreline hazard mapping and data, furthering insight and understanding of the shoreline and its processes.
This information provides an opportunity to consider how the Lake Huron shoreline has been used, and how this interaction can evolve in the future, for a healthier and less hazardous coast.
Under the Ontario Provincial Policy Statement (2020), planning officials are required to prepare for climate change impacts on natural hazards. These climate risks are incorporated into MVCA's 2023 Shoreline Hazard Mapping Update by modelling changes in wave energy resulting from changes to lake level and ice conditions under 1.5°C rise in global mean temperature (GMT). This mapping is the first step towards understanding risk on the shoreline and planning towards a more climate resilient future.
Below are the details and themes of these upcoming workshops:
Workshop #1 – Understanding Values
Session 1: Sunday, July 16, 2023, from 10 a.m. – 12 p.m. noon
Session 2: Sunday, July 16, 2023, from 2 p.m. – 4 p.m.
Workshop #2 – Alternative Futures
Session 1: Tuesday, August 15, 2023, from 2 p.m. – 4 p.m.
Session 2: Tuesday, August 15, 2023, from 6 p.m. – 8 p.m.
Workshop Location:
Knights of Columbus Hall
390 Parsons Court
Goderich, Ontario
If you're interested in attending one or both of these workshops, please register here:
Or scan the Quick Response (QR) code:


For more information, please contact:
Or visit Maitland Conservation's website: