Conservation Youth Corps help clean up Lake Huron
Posted: Friday, August 25, 2023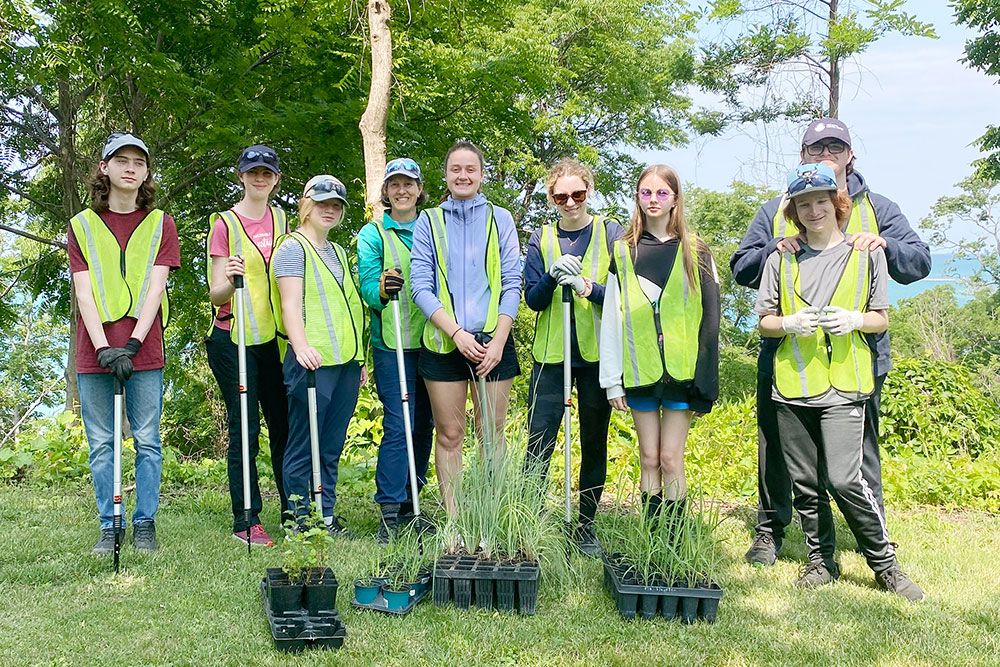 Local youth catch the drift with Lake Huron Coastal Centre
Wrapping up the 2023 summer season, participants of the Coastal Conservation Youth Corps say they feel they've made an impact on Lake Huron's shoreline.
Participating in week-long sessions, these secondary-school students took positive action to restore the ribbon of habitat edging Lake Huron while learning about the dynamic coastal environment.
In Saugeen Shores, restoration work on the Gobles Grove public beach caught the attention of passers-by who learned from participants how newly-planted American beach grass and low shrubs will act as a living fence to minimize sand blowing over a newly reconstructed roadway.
"Plants can effectively remove energy from the wind-blown sand, causing it to drop and initiate dune formation," said Holly Westbook. "Driftwood sentinels were also fun to construct and install to add a beachy aesthetic."
While some conservation efforts may be less obvious, they are certainly valued. Litter collection leaves the shore in a healthier and more natural condition and aids in reducing plastic pollution in this freshwater system.
"We combed the beach, picking up every tiny bit we could find – even the smallest pieces of styrofoam were recorded using Ocean Wise Shoreline Cleanup data sheets," said Kerry Kennedy, Program Coordinator. "Participants now know it's easy to plan a cleanup and that tallying the types of litter can inform future policy decisions. Being aware of the magnitude of plastic pollution in the lake motivates us to clean up, even during informal beach visits."
Removing invasive species makes way for native plant species to flourish. This supports the food web and habitat needs of diverse organisms. Working alongside residents of Southcott Pines in Grand Bend, the Goderich team pulled heaps of invasive Eurasian watermilfoil, using long ropes to drag oversized flexible rakes.
Duncan Croft expressed gratitude, saying, "The time which you put in today will help revive the health of the Old Ausable Channel. As a bonus we got to connect with members of our community and make some new friends."
Researchers from the University of Toronto will follow up to monitor the impact of this removal effort on the rare aquatic species found here.
Sunset Park, a favourite lookout spot on the steep bluff overlooking the Goderich shoreline, also received a make-over as participants pulled invasive Himalayan balsam before seed development occurred on these pink flowering plants. Planted in their place, deep-rooted native grasses will provide stability without interfering with the view, as will Ninebark, an exceptional native shrub with high wildlife value.
Erinn Lawrie, Executive Director of Lake Huron Coastal Centre (LHCC) said "applying their learning about the many impacts on a healthy Lake Huron, youth participants are now better equipped to care for this Great Lake and support a resilient coastal community throughout their lives."
The Lake Huron Coastal Centre is seeking financial support from the community to see this initiative succeed into the future.
Youth interested in taking part can learn more on the Coastal Conservation Youth Corps web page.
Watch the video now: