Love Your Greats Day second Saturday of August
Saturday, August 13, 2022
Love Your Greats Day on second Saturday of August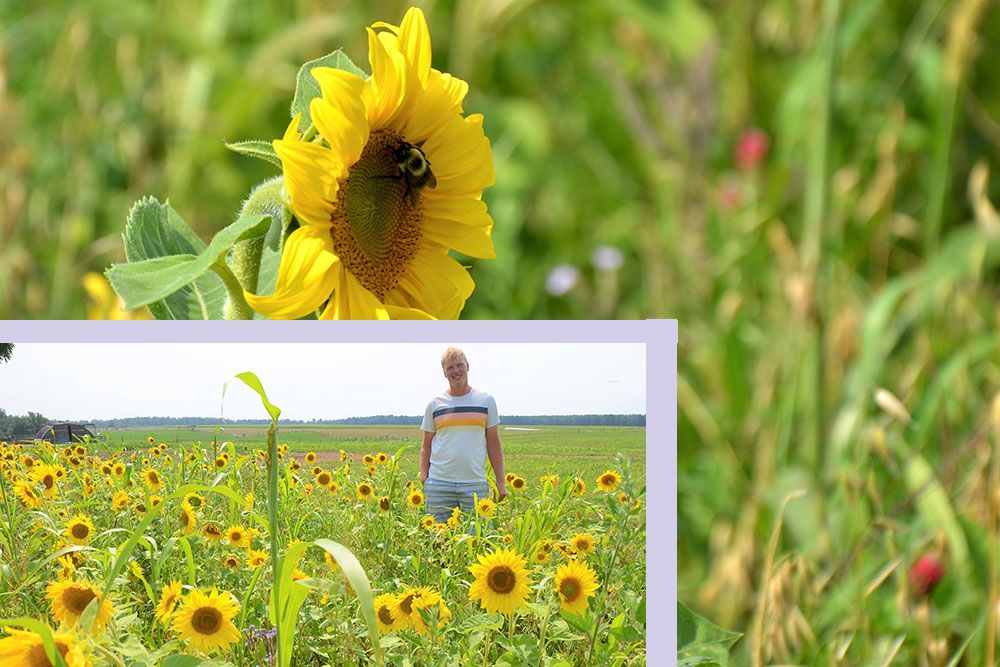 Love Your Greats Day is Saturday, August 13, 2022
What actions can you take, on Love Your Greats Day, to protect Lake Huron?
A day to celebrate and protect our Great Lakes, called Love Your Greats Day, is held the second Saturday of every August. In 2022, this special day is on Saturday, August 13.
Love Your Greats Day organizers say local citizens like you, and local communities like yours, can take positive actions to protect Lake Huron and the other Great Lakes.
There are many ways you can help Lake Huron. You may take litterless lunches to the beach, properly dispose of waste, and help clean up litter along Lake Huron. You may use reusable water bottles and refill them at local water refill stations.
"Each positive action you take adds up," organizers say.
Organizers encourage you to think of actions you can take, as an individual, to protect and improve the Great Lakes. They invite you to choose products that don't pollute; to reduce your plastic use; and to do projects that slow down or capture water running off of your property.
You might plant trees or donate to local tree planting programs. You may use rain barrels or add rain gardens or wetlands or make other stormwater management improvements. Consider adding green infrastructure to your property. This benefits creeks, rivers, and Lake Huron. This natural infrastructure can also help us adapt to extreme weather and changing climates.
Learn more and watch this video now:
Green infrastructure includes forests and woodlots, wetlands and stormwater ponds, soil, and natural areas. It also includes technologies to absorb water and manage runoff. These technologies include rain barrels and permeable pavement. These green technologies filter and store stormwater and replicate ecosystem functions. Contact your local conservation authority to find out about technical expertise and grant incentives that may be available to help you.
Enhancing natural features and green infrastructure has many benefits to our Lake Huron communities. It can help to store, filter, and treat water running over land during storm events. Adding natural features to our landscape has benefits for air and water quality. It provides habitat for wildlife and pollinators. It makes our communities more resilient and better prepared to adapt during extreme weather as our climate continues to change. Green infrastructure can reduce flood risk by slowing and reducing stormwater. This is an economic benefit as well.
To find out more actions you can take to protect your Great Lake, visit the Healthy Lake Huron – Clean Water, Clean Beaches Partnership at healthylakehuron.ca (and follow Healthy Lake Huron on social media) share your stories by using #loveyourgreats or tagging @loveyourgreats on social media and visit loveyourgreats.com
Show us how you are protecting Lake Huron
Tell us or show us with a photo how you're part of the solution protecting Lake Huron. Tag @WaterSoilLivingThings and use the hashtags #PieceofthePuzzle #LoveYourGreats You can be entered in a draw with a chance to win a #HereOnLakeHuron hoodie. We all have a role when it comes to protecting Lake Huron. Visit Ausable Bayfield Conservation or Healthy Lake Huron for ideas how to protect Lake Huron. Then, tell us or show us with a photo how you're part of the solution.
Plant a rain garden
As Love Your Greats Day approaches, consider positive actions such as planting rain gardens. Do you have a location for a rain garden in your yard? Remember that: #LakeHuronStartsHere
There is a rain garden in front of The Andersons, Inc. in Hensall, Ontario. This rain garden helps to protect water by capturing water that might otherwise run off the parking lot onto the street. Local students and community members helped to plant this rain garden, with the support of Ausable Bayfield Conservation staff, in June of 2018. The plants really took off.
Roots have been established and are helping to filter stormwater runoff before it reaches Black Creek, Ausable River and Lake Huron, she said. That's not all rain gardens do. "Rain gardens do double duty as they not only hold back and filter water but they also provide habitat and food for bees, butterflies and other insects," she said.
This valuable pollination is evident in the photos which show bees doing essential pollinating of the rain garden plants which include Sweet Oxeye (the yellow plant in the photo); Joe Pyeweed (the pink plant); and Wild Bergamot (the purple plant).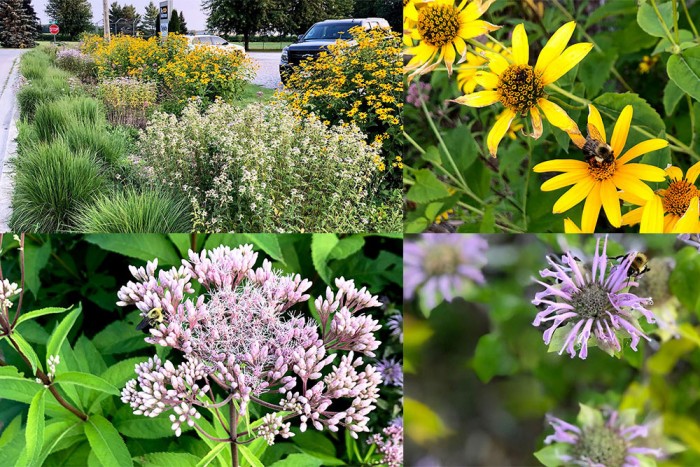 Bayfield-area farmer loves his soil and Lake Huron
Keeping soil, nutrients on land is one of messages for rural, urban residents as Love Your Greats Day is celebrated on August 13, 2022
"The goal is to keep dirt on the land." This was the response from Bayfield-area farmer Rick Kaptein Jr., when asked about why he farms the way he does.
Rick uses no-till, cover crops and permanent pasture on his rolling farm, Tulip Lane, to help keep the soil on his land. The math is simple, he says. The more soil that stays on his farm, the less he has to spend on nutrient inputs. These practices help maintain a profitable agricultural operation but, at the same time, they keep valuable soil and nutrients out of the nearby Bayfield River and, ultimately, Lake Huron.
Rick started to use cover crops to feed his cattle but he soon saw the benefits of having something growing in the ground for the long term, both in terms of weed control and erosion control. He noticed that even a bad catch of Rye was able to slow down the weeds. And, when it comes to storm events with heavy rains, he is relieved to see his soil is not washing away.
"You have got to have a root in the ground in the winter," he said. "The no-till really helps keep the soil in place with those unexpected rains that might come in July and August."
Rick admits he is continually learning when it comes to his farming practices and he is keen to see how a new pollinator cover crop mix benefits his soil. Pollinators will most certainly benefit from the Buckwheat and Crimson Clover he planted but Rick is hoping the mix also adds some nitrogen and loosens the soil using the roots.
One thing he has learned is that if he spends a little money (on cover crop seed) he can save a lot of money and this helps both his pocketbook and the lake.
Whether you are an agricultural producer, a rural non-farm resident, or an urban resident there are actions you can take to keep your Great Lake great.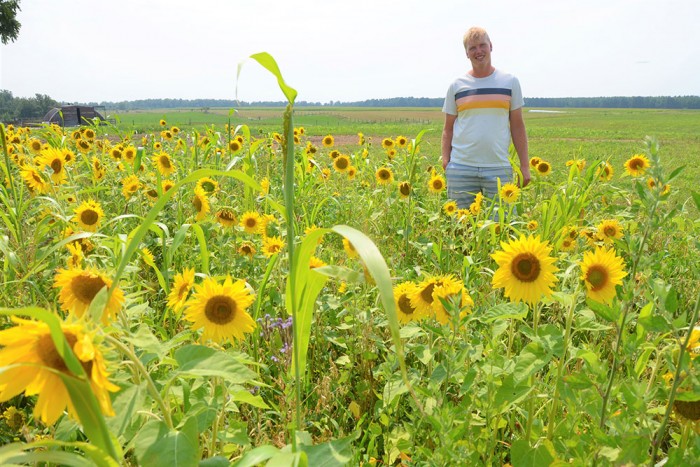 Protect Lake Huron and help us adapt to climate change
The Municipality of South Huron, as part of its Rising to the Challenge climate change video series, has prepared videos that share ways to help us to adapt to weather extremes. One of those videos, featuring Ausable Bayfield Conservation's Hope Brock and Tommy Kokas, provides a number of 'green infrastructure' innovations (such as permeable pavement, rain barrels, rain gardens, and native species planting) you can consider to reduce impacts.
Watch the Valuing Green Infrastructure video now:
To watch this and other videos visit this web page:
Why 'Lake Huron Starts Here'
Some photos remind us how 'Lake Huron Starts Here.'
Where is here? Where does Lake Huron start? The lake starts on high ground, or headwaters, wherever raindrops fall and begin to travel towards a creek, a river, and the lake. 'Here' may actually be kilometres from the lake, but it is important to realize that what we do on the landscape can have an impact on the lake.
Check out social media #LakeHuronStartsHere posts from 2020. The posts highlighted positive actions such as rain gardens; rain barrels; cover crops; erosion control; and water and sediment control basins.
Lake Huron starts in all of our backyards. To help protect Lake Huron, people can use rain barrels and rain gardens to keep water clean by capturing rainwater so it doesn't travel, during storms, over lawns, fields, parking lots, and roads before it reaches the lake. Landowners can plant cover crops and install erosion control projects like Water and Sediment Control Basins (WASCoBs) to build soil health, reduce erosion, and protect water.
Hope Brock is Healthy Watersheds Technician at Ausable Bayfield Conservation. Lake Huron is large, she said, but before water ever reaches the lake it has traveled and it can carry pollutants with it.
People can take small, positive actions to manage that water so it is less polluted when it reaches the lake. Some water may fall into the lake directly as rain but additional water comes from creeks and rivers. Before water runs through streams and rivers much of that water was water running off of land – or runoff. That's why it's important, she said, for people to think about how Lake Huron starts on our own properties.
When we use rain barrels, cover crops, rain gardens, or other beneficial practices we can help to slow down the water, hold back the water, and let the water soak in.
"In many ways, the health of our lake depends on what happens in your yard, on your lawn or field, on your property, and in your home," she said.
The second Saturday of every August, people are invited to celebrate and protect their Great Lake on 'Love Your Greats Day.'
In honour of this special day, small actions are highlighted to show residents how 'Lake Huron Starts Here.'
Love Your Greats started in 2015. Love Your Greats Day encourages making changes to reduce plastic use (to reduce plastic, microplastic, and nanoplastic pollution); to find out about sustainable practices to protect Lake Huron and the other Great Lakes; and water protection projects such as rain gardens, wetlands, tree planting, and responsible purchase of products that don't pollute.